One of my favorite places to grab a little lunch is Noodles and Company. The streamlined modern design, delicious meals, and the peaceful atmosphere lends to a welcoming place to sit and sip izzes with friends. My favorite meal is pasta fresca with parmesan crusted chicken, topped with feta cheese and paired with the cucumber and tomato salad. However, I always look forward to their flatbread at the end of the meal.
When I saw
this recipe for naan
, I knew I had to try it. I substituted gluten free bread flour for regular flour and despite a slightly denser texture, it was delicious. If you go the gluten free route, I would recommend flouring your hands before kneading it, because it was a little sticky. It also didn't rise as much as normal, but that was due in part to some really old yeast.
Naan
adapted from this recipe
ingredients
1/2 cup warm water
2 tsp. active dry yeast
1 tsp. sugar
2 1/2 cups Pamela's Gluten Free Flour
1/2 tsp. salt
1/4 cup canola oil
1/3 cup plain yogurt
1 large egg
Olive Oil (for drizzling)
Directions
Stir the water, sugar, and yeast together and let sit until foamy. After five minutes, stir in the flour, salt, oil, egg, and yogurt. Knead until the dough is soft and malleable, then cover with a towel and let rise for an hour (all while waiting impatiently as the clock slowly ticks). Roll the dough out (make sure to flour the rolling pin and the surface) and cut into circles (as large or small as you'd like). In a hot skillet drizzled with olive oil (on a little lower than medium heat), cook each naan until they're nice and golden and are fairly blistered (though not burnt). Serve with honey, jam, curry sauce, butter, syrup, or whatever you'd like. Enjoy!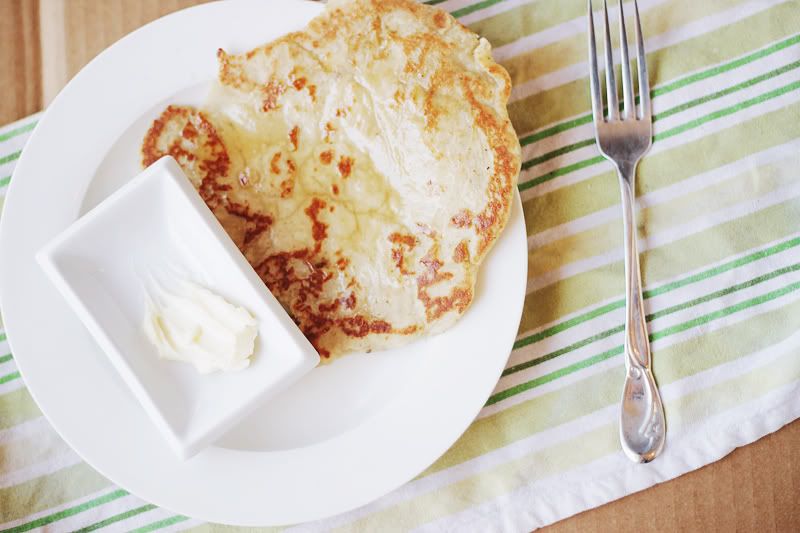 Everyone loved the naan. In fact, by the time I had finished tidying up the kitchen, there was just a half piece left. I cut it into a small circle and attempted to grab a photo, but due to a hungry boy who wanted his share, the photo-taking was short lived. Luckily, I made another batch the next day and topped it with a smear of butter and a drizzle of honey.
Baking and cooking have been exciting me lately and I would love to hear and try out your favorite recipes!