We're breakfast people at our house. Sometimes we'll make dutch babies; other times omelets filled with all manner of delicious vegetables and meats; french toast; waffles drizzled with maple syrup; scrambled eggs and bacon; and my favorite, crepes smothered in fresh whipped cream and berries. All that being said, sometimes you can't beat the sweet simplicity of pancakes in the morning. Which is why we love this new pancake recipe. Coupled with the fact that it was easily adapted to being gluten free, it was a delicious start to our day.
Corn Cakes
Recipe from Food Network Magazine
Ingredients
1/2 cup flour (we substituted gluten free bread flour for white flour)
1 cup yellow cornmeal
1 tablespoon baking powder
3 tablespoons sugar
1/2 tablespoon salt
1 1/4 Cups milk
1/2 stick of melted butter
2 eggs
a little vanilla
Directions
Whisk the flour, cornmeal, baking powder, sugar, and salt. In a seperate bowl, whisk the milk, butter, eggs, and vanilla, then whisk into the dry ingredients until combined. Ladle onto a griddle or hot skillet and cook until slightly golden. Top with whatever suits your fancy. (recipe makes 20-30 pancakes, depending on size)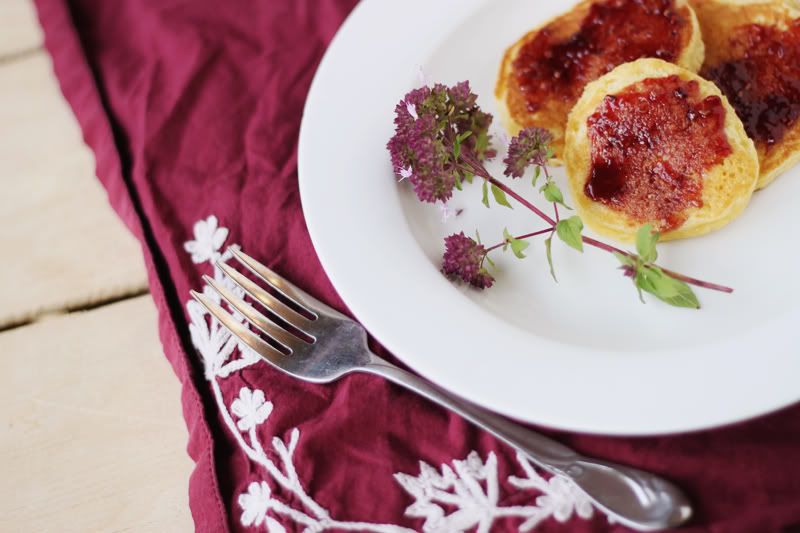 We slathered the corncakes in triple berry jam and ate them hot off the griddle. The sweetness is contrasted perfectly by the hearty taste and flavor reminiscent of corn bread. There's a bit more crunch to these pancakes and a perfectly scrumptious texture. Everyone loved them and clamored for more. I have a feeling that we'll be making them again soon.
Interested in why we're gluten free? Click here to read Samuel's story.